Our Dealership's History
Wilmington Auto Center has provided New / Pre-Owned Vehicle Sales and Auto Service for Clinton County Ohio and surrounding areas since 1976.
The following is a brief history of Wilmington Auto Center. . .
In 1976, A. Dale Adkins launched his first automotive dealership under the name of Wilmington Auto Sales. Dale achieved an exemplary reputation for selling quality pre-owned vehicles and providing friendly customer service. David L. Adkins grew up in the family business by learning every aspect that one could do. He attended Wright State University for three years studying Economics. Then in January 1989, David became a full-time employee. David took responsibility as the new Dealer Principal in 2005. John Adkins grew up learning the family auto business as well. John later pursued a specialized, Automotive Marketing and Management BBA from Northwood University. John was recruited to work for various automotive dealer groups during the next 4 years before returning to Wilmington Auto Center in January 2007.
In 2008, the dealership expanded and broke ground building a completely new facility, including a state-of-the-art service center and parts department. 2009 marked the first successful full year of business in the new facility and operations of their complete service and parts department. Not long after, Wilmington Auto Center was awarded "Ohio Quality Dealer of the Year" from OIADA in 2011 for customer satisfaction. Along this journey, John had always aspired to become a new vehicle franchise dealer and luckily, his family partners embraced the idea to pursue the goal. In 2016, Wilmington Auto Center realized this goal as they became the new Chrysler Dodge Jeep Ram franchise dealer for Clinton County, Ohio and surrounding area. The Adkins family and staff were very proud to add one of the most respected new vehicle lineups to their existing dealership. All together, the Adkins family dealership has proven their devotion to the automotive industry by providing both new and quality pre-owned vehicle sales, auto service, friendly customer service and community support since 1976.
Awards & Recognition
2014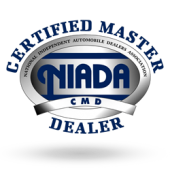 Certified Master Dealer
presented by:
Wilmington Auto Center is proud to announce their completion of the NIADA CERTIFIED MASTER DEALER® program. The CERTIFIED MASTER DEALER® program was developed in 2001, in collaboration with Northwood University, to help dealers manage and grow their businesses. Since then, it has grown into one of the industry's most respected training programs. Dealers who attend this training are committed to the industry, support ethical business standards and practices, and are leaders in their communities. They bring a wide range of experience to each class, and leave with new strategies for analyzing their business practices.
2011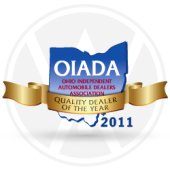 Quality Dealer Of The Year
presented by:
Wilmington Auto Center achieved recognition as "Quality Dealer Of The Year" by the Ohio Independent Auto Dealers Association (OIADA) and was chosen to represent the State of Ohio at the 2011 NIADA Convention. This award is given annually to one dealer member for outstanding service to the industry and the community.